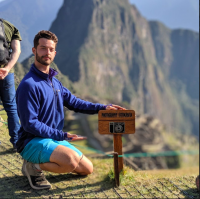 Drew Estes, SEO/SEM Copywriter
PERSONAL WORK:
I started out blogging about the relationships between media, technology, politics, and society, and have since transitioned into fiction. When taking a break from the slow progress of my first novel, I've turned more towards short stories, mainly focusing on the relationship between self awareness, happiness, and human connection.
-------------------- ❖ --------------------
PROFESSIONAL CAREER:
From PPC ads to email campaigns to organic search marketing, the language of marketing copy can make or break a brand. As an SEO/SEM Copywriter, I use persuasive storytelling and customer insight to supercharge digital marketing, boost conversions, and grow businesses.
If it starts with a search, it'll end with a sale.
Experienced with the following platforms:
Google Analytics ❖ Google Ads ❖ Google Search Console ❖ Facebook Ads ❖ Hootsuite ❖ MailChimp ❖ Wordpress ❖ Microsoft Office Products ❖ Keywords Everywhere ❖ Ahrefs ❖ Iterable ❖ Moz ❖ ❖ BaseCamp
(Edit: currently happily employed)
~ MORE ABOUT ME ~
I graduated University of Washington with a BA in Marketing, and have since made a career copywriting (internal and external communications), blogging (personal and corporate), and digital marketing (advertising, SEO, and email campaigns).
Additionally, I started an international online store for creatives who work from home. I later suspended store activity for now to focus on both personal and professional writing.
I hail from Seattle but throughout my twenties I've lived in India, Thailand, Costa Rica, Colombia, Peru, and Iceland (I speak Spanish, as well as some Hindi and Icelandic).
Outside of work, I'm the midst of writing my first novel and some short stories.
Lover of fitness, photography, TV & film, reading, travel, secular spirituality, psychology, and the outdoors.
Other hobbies include lamenting this website's lack of text formatting options.
Expertise Startups, Productivity, Marketing, Psychology, Emotional Intelligence, Travel & Culture
Skills Copywriting, SEO, SEM, Storytelling, Digital Marketing, Facebook Ads, Lead Generation/Nurturing
Location Spokane, WA (varies)