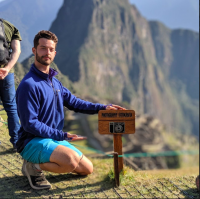 Drew Estes, Marketing Director & Copywriter
PERSONAL:
I started out blogging about the relationships between media, technology, politics, and society, and then expanded into fiction. When not writing stories, I write about human connection and behavior through a lens of mindfulness, media, and tech.
-------------------- ❖ --------------------
PROFESSIONAL / CAREER:
After years of blogging and freelance writing, I started as an SEO Copywriter and expanded my skillset to become a full stack digital marketer, from analytics to storytelling to conversion rate optimization.
Experienced with the following platforms:
ActiveCampaign ❖ ClickFunnels ❖ SEMRush ❖ Ahrefs ❖ Zapier ❖ Google Analytics ❖ Google Ads ❖ Google Search Console ❖ Facebook Ads ❖ Hootsuite ❖ MailChimp ❖ Wordpress ❖ Keywords Everywhere ❖ Ahrefs ❖ Iterable ❖ Moz ❖ ❖ BaseCamp
(Edit: currently happily employed)
~ MORE ABOUT ME ~
I graduated University of Washington with a BA in Marketing, and have since made a career as a digital marketer and writer. I left Seattle in 2016 and have been mostly nomadic since then, working online and slow-traveling the world.
Additionally, I started an international online store for creatives who work from home. After getting sick of low margins and unpredictable demand in an undifferentiated category, I shut down the store to focus on career and personal creative pursuits.
I hail from Seattle but throughout my twenties I've lived in India, Thailand, Costa Rica, Colombia, Peru, and Iceland (I speak Spanish, and dabble in most everything else, including Hindi and Icelandic).
Outside of work, I enjoy writing short stories, fitness, trail running, photography, learning about tech (AI/tech/blockchain), TV & film, reading, travel, meditation, psychology, and the outdoors.
Other hobbies include lamenting this website's lack of text formatting options.
Expertise Startups, Ecommerce, Digital Marketing, Psychology, Tech/Blockchain, Travel
Skills Email Marketing ❖ Marketing Automation ❖ SEO ❖ Copywriting ❖ Digital Advertising (PPC) ❖ PR ❖ Team Leadership & Management ❖ CRO / AB Testing ❖ Lead Generation & Nurturing ❖ Landing Page Creation ❖ Remarketing
Location Remote (home is Washington State)